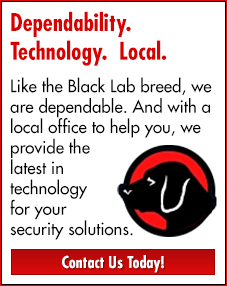 As your local security systems integrator, Black Lab Alarm is here to advise you as a partner, not just to install security equipment.
Our friendly office staff in Woburn will be there when you call, and our technicians and consultants will meet with you to educate, answer questions and provide you with quality installation and service.
Black Lab's customers rely on our expertise to protect not only their property and possessions, but most importantly to protect the people that mean most to them in their lives. After all, your family and employees are what matters in the end.
---
The Black Lab Story:
Our owner, Todd Broyard, grew up with Black Labs in his family. He learned of their admirable qualities from a young age.
The devotion and loyalty to those around them, as well as their work ethic and intelligence is revered by many…Not to mention that they are extremely friendly.
We here at "Black Lab" Alarm find that these traits are important in a service provider as well, especially one who provides safety and peace of mind to its clients.
We are determined to provide you with the most state-of-the art security systems, but to do so with your best interest in mind. We will listen to your needs and customize a system that suits you.
We do not have call centers in a far away state and we do not send subcontractors to your house. Like a Black Labrador Retriever, we are very approachable and knowledgeable.
We are your local security systems advisor. Call us directly in our Woburn office and speak to our friendly staff and leadership team anytime.
Thank you from the team at Black Lab Alarm.